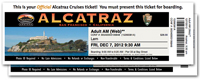 E-Tickets Save Time.
Your E-Tickets provide both ferry service and access to the island and prison, and allow you to bypass the long lines.
Restoration Alert: Portions of the Cellhouse West Wall are temporarily shrouded due to repair and restoration. With the exception of the hospital wing, all areas traditionally open remain open. Look for information signs. There are limited areas on Alcatraz that are always closed, due to their condition. For your safety, please do not enter closed areas. Restoration will be complete in early 2018. Thank you for your understanding and support.
Alcatraz Island Day Tour AM/PM
Includes:
Alcatraz Island roundtrip ferry
Access Inside Alcatraz Prison
45-minute Cellhouse Audio Tour
Orientation video
Ranger and docent tours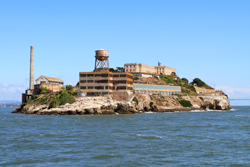 Step back in time and experience the legendary island that has been a civil war fort, a military prison and one of the most notorious federal penitentiaries in US history. This memorable tour includes: 45 minute audio presentation "Doing Time: The Alcatraz Cellhouse Tour," featuring actual correctional officers and prisoners who lived and worked on the Island; orientation video by Discovery Channel; ranger and docent tours; historic gardens and abundant wildlife.

Duration: Approximately 2 ½ Hours
Availability: Daily Available up to 90 days ahead.