Ferry to Alcatraz Island. Visit the Cellhouse. Explore Alcatraz Island.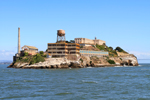 Visit the legendary island that has been a civil war fort, a military prison and one of the most notorious federal penitentiaries.
Learn More: Alcatraz Day Tour
Island ferry transportation by Alcatraz Cruises, the only ferry provider with access to the prison.
Ferry Schedule.
* We provide around-the-clock customer care support 7 days a week, including holidays.
Customer Care Support.
Price includes a per-ticket service fee. Summary prior to checkout. No additional fees at checkout.