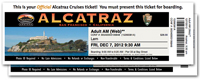 E-Tickets Save Time.
Your E-Tickets provide both ferry service and access to the island and prison, and allow you to bypass the long lines.
Restoration Alert: Portions of the Cellhouse West Wall are temporarily shrouded due to repair and restoration. With the exception of the hospital wing, all areas traditionally open remain open. Look for information signs. There are limited areas on Alcatraz that are always closed, due to their condition. For your safety, please do not enter closed areas. Restoration will be complete in early 2018. Thank you for your understanding and support.
Compare Alcatraz Island Tours
Tour
Alcatraz Day Tour AM/PM
Alcatraz Night Tour
Includes
Ferry and Tour Included. See the inside of Alcatraz. 45 minute audio presentation; orientation video; ranger and docent tours; historic gardens and abundant wildlife.
Ferry and Tour Included. See the inside of Alcatraz. Personally narrated boat tour; guided tours from the dock to the prison; 45 minute audio presentation; special programs and presentations offered only at night.
Availability
Daily
Thursday through Monday
Duration
Approximately 2 ½ Hours
Approximately 2 ½ Hours
Price
Adults: $45.25
Children: $31.00
Seniors: $43.25
Adults: $52.25
Children: $34.50
Seniors: $49.25
Includes Cellhouse Audio Tour
Includes Onboard Narration
Includes Guided Tour
Includes Other Special Tour Activities